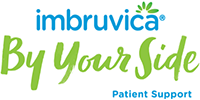 Learn how Imbruvica by Your Side can help your patients start and stay on track with their prescribed treatment plan.
Click below to be connected with an IMBRUVICA representative.
Eligible patients may pay as little as $0 per prescription of IMBRUVICA.*
*This offer is not valid for patients enrolled in Medicare, Medicaid, or other state or federal healthcare programs. Maximum savings limit applies; patient out-of-pocket expense may vary. See full Program Terms, Conditions, and Eligibility Criteria on card.